BROTHERS STARTED IN A BARN, TODAY THEY'RE LOOKING BEYOND BORDERS
KANAŠ, EASTERN SLOVAKIA. A blacksmith holds an iron rod with a red-hot end in a vice. He takes a hammer in his hand and begins to beat on it with a huge rumble. Three beats with the right hand, two with the left. Step right and he repeats the whole ritual.

Slightly straddled all the time with his knees bent. If an amateur was caught with this several kilograms heavy hammer in his hand, it would quickly end in an accident.

However, the blacksmith Daniel Dráb has already learned the movements. Skilfully he bounces around the iron rod and hammers it into the red-hot edges.

Along with fourteen other people, he works in artistic blacksmith Ukovmi in Kanaš village, which is located in eastern Slovakia, near Prešov. The company belongs to the brothers Martin and Miroslav Poloha. This year they celebrate the twentieth anniversary of the company foundation (2018).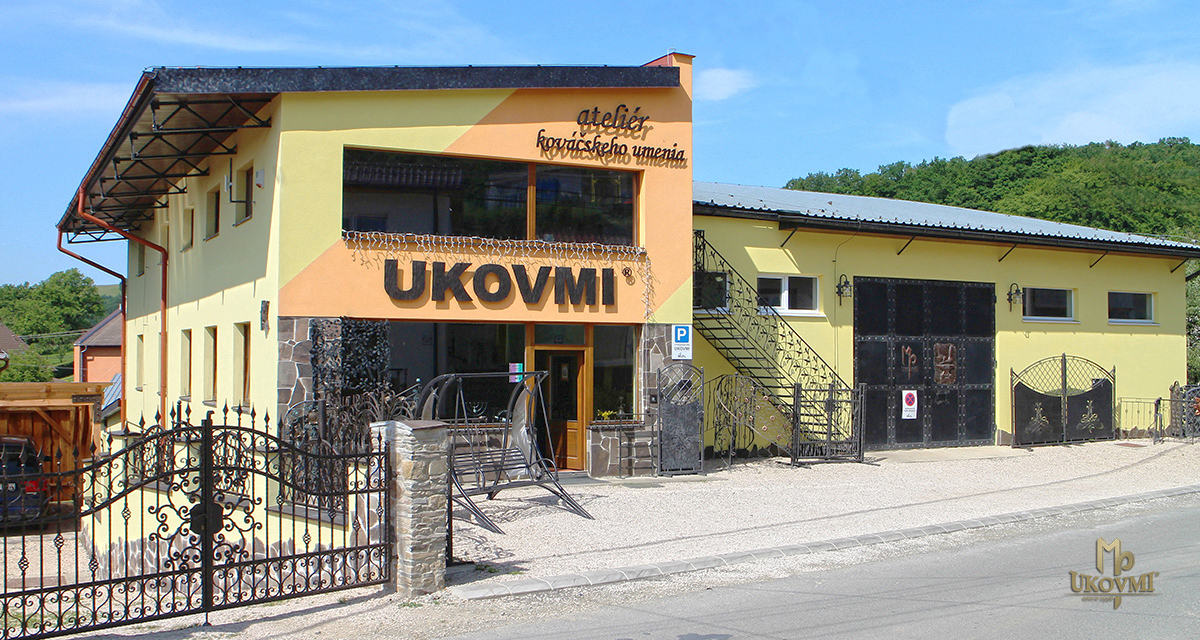 They produce hand-forged gates, chandeliers, railings, furniture, swings, but also staircases and various decorations. They started in the barn of their parent's house. Today, they think about how to expand their products abroad.

Two brothers

,,My brother studied to become an artistic blacksmith, but since I was an anti-communist element, I became just an electrician,, describes the beginnings of older brother Martin. We didn´t have blacksmithing in the family. However, Miroslav, six years younger, was once on a school excursion in a blacksmith's workshop, and then he decided that he wanted to devote himself to this craft and work professionally.

,,We do a lot of wine cellars, so we often repeat the wine patterns here.,,
MARTIN POLOHA, EXECUTIVE OFFICER OF THE COMPANY

,,When I watched my brother forging, I liked it so much, that I left everything and since then we work together,, explains Martin.

Although he can also handle hot iron, forges, and machines, today he is more concerned with the business side of enterprise. In turn, Miroslav works as Production Manager.

The first smaller workshop was built in 2001. Six years later, it became obvious that they would have to expand the production and built another larger workshop.

Although Martin is an electrician, he says that he ultimately benefits from it. Lately, they have started to produce lamps, so it is no problem for him to make them shine.

They draw inspiration from nature

Above the table in Martin's office, there is a forged chandelier that looks like an oak branch. It is elaborated to the smallest details. There are acorns on it, but each of different size, one is longer, another is crooked.

Here and there are situated twigs, which seem to be broken by the wind or some wild animal. The leaves are twisted, each in a different direction, as if the branch was now just torn from the tree. The whole chandelier appears as if someone had made a tree-shaped form and cast it, not so much that someone was forging it out of pieces of iron.
,,We do a lot of wine cellars, so we often repeat our wine patterns here. We also have oak branches for hunters,, says Martin, adding that they often draw inspiration from nature. He describes how they once designed the pool railing for a client.

When the client approached him, he was on a trip to the Tatra Mountains near the river Poprad. He noticed the water scrubbing the shores and the branches above the large pebbles. He drew a sketch in that style and showed it to the client. ,,Client was excited,, laughs Martin.
Although at first glance, blacksmithing appears to be hard manual work, drawing and artistic designs are an important part of it. Martin says his brother has drawn a little longer. Miroslav doesn't hear it, he is with others at lunch break. Although it is only half past eleven, the work in the blacksmith's workshop has been in progress since early morning. The work is tough, therefore the lunch break lasts sometimes more than three-quarters of an hour.

From a piece of iron...

The office with the oak chandelier is behind the showroom, where the administration is located. The orders are processed there as well as drawings of individual projects. If the customer likes the sketch, it needs to be quoted.

This means writing what type of iron to use for which part, how long the individual pieces should be, what coarse bars they use. It sounds like ,,Thirty round logs, 70 in height, forge a ring under the candle.,, There are also examples of creations within the administrative part. Candleholders, lamps, chandeliers, stands, gates, fences, swings, tables, chairs, but also forged roses.

Samples of older works are also in front of the building entrance. On many, we see a special sign of the company UKOVMI, which the Poloha brothers had registered years ago at the Industrial Property Office.
When asked if they are planning to open a blacksmith's museum, Martin Poloha just laughs. He warns us to repark our car because the truck with material just arrived.

,,We don't buy in bulk, we get two or three tons of iron a week,, he says, and when he captures the astonished look, he explains that ,,big,, in the industry means tens of tons. They used to buy semi-finished products as well, like the various spikes on the gates, but they stopped. Today, they focus on manual production.

...to a huge chandelier

The material goes from the store to the workshop. From the big amplifier pop music plays. The lunch break is over and forges are slowly warming up again. Even before the iron gets into the fire, it needs to be cut precisely.

,,Band thirty to eight, stone, P 101,, Miroslav Poloha, who is already waiting in the workshop, comments on his activity. He explains that from this 30-centimeter long piece of iron he makes a 16.6-centimeter-diameter hoop. Stone is a pattern in which iron is processed, P 101 is the code by which such iron treatment is referred to.

These hoops end up in lamps. In addition to Miroslav Poloha, welder Slavo Olejník works on them. His job is to cut the holes into the cover with the oxy welding, moreover, to wring the iron through the welding machine. ,,Don't look into the flame because you won't sleep,, he warns us joking as he turns on the welding machine.

Two masters are currently working on a different order in the contiguous workshop. The town Prešov ordered the reconstruction of the historic bars on the Park of Culture and Leisure. The blacksmiths heat the iron in the forges and twist it.

How to forge correctly

It is hard to get used to the huge rumble in the workshop. At each stroke, a man subconsciously clenches his teeth. The blacksmiths are laughing that it looks like they hammer fingers instead of iron. The windows in the workshop are open, but the neighbors need not be regretted. It's an old parent's house, it's empty today.

There are three forges in the workshop, but only two are in use. Both operate on gas. They also have a classic coal workshop, but it is no longer in use. It is unnecessarily expensive, and iron must be observed. In the gas one to set the temperature will do. Inside, there are several iron rods whose ends are red-orange.

,,I have a drawing on the table that I have to follow. I snap and twist the glowing ends as far as I can,, describes his actual work Matúš Benčo, a blacksmith. They were classmates with Miroslav Poloha. Benčo had his workshop in Ivanka pri Dunaji but decided to move to his friend in the east.

Glowing iron yields surprisingly easy. Just a gentle strike for a few times and the iron twists into the desired shape. Finally, it still has to be balanced, few hammer strokes are needed on the anvil. So far his colleague has been working on so-called ,,bangers,, to work much thicker poles.

There are other products in the corner of the workshop waiting to be finished. Mostly, more projects are done at the same time because each one needs its time. For example, making a large lamp takes two to three weeks when one person works on it.

There are even smaller spaces behind the two workshops, one for coloring the products, the next one for applying the so-called patina. It is usually copper or silver. Then the product seems to have already some age, although it can be freshly made.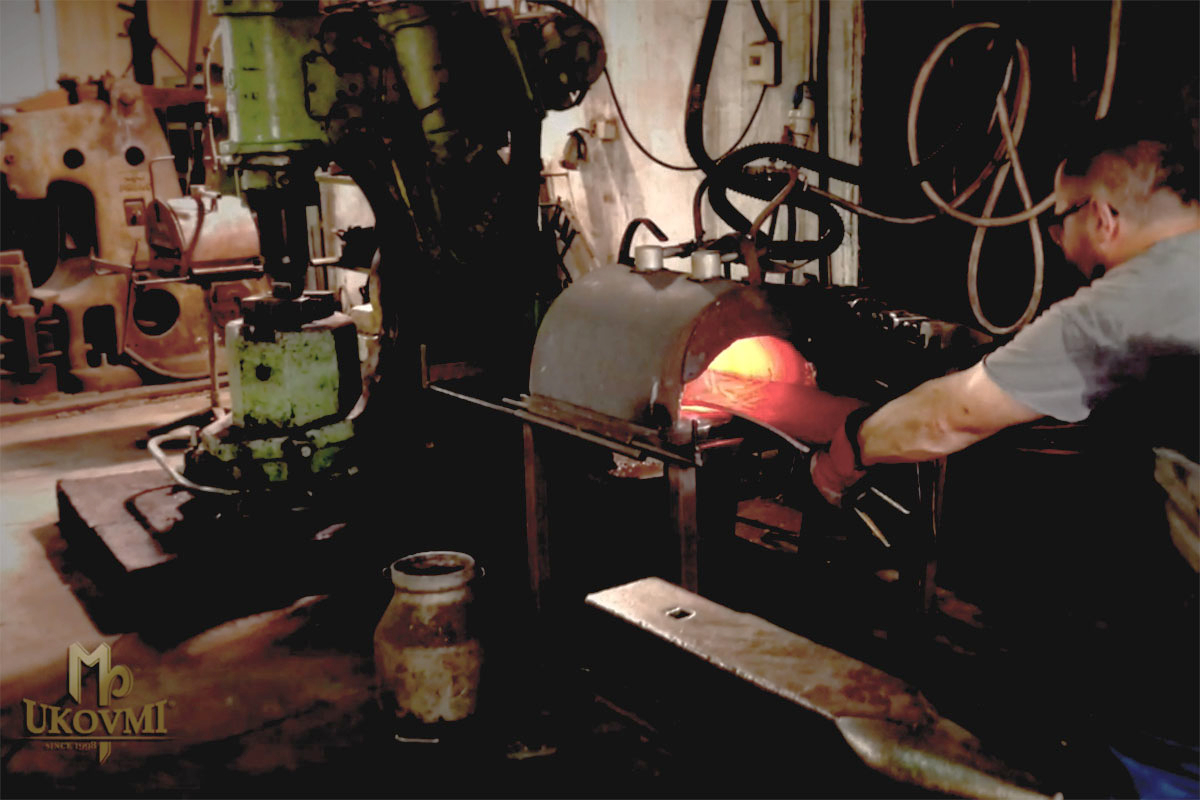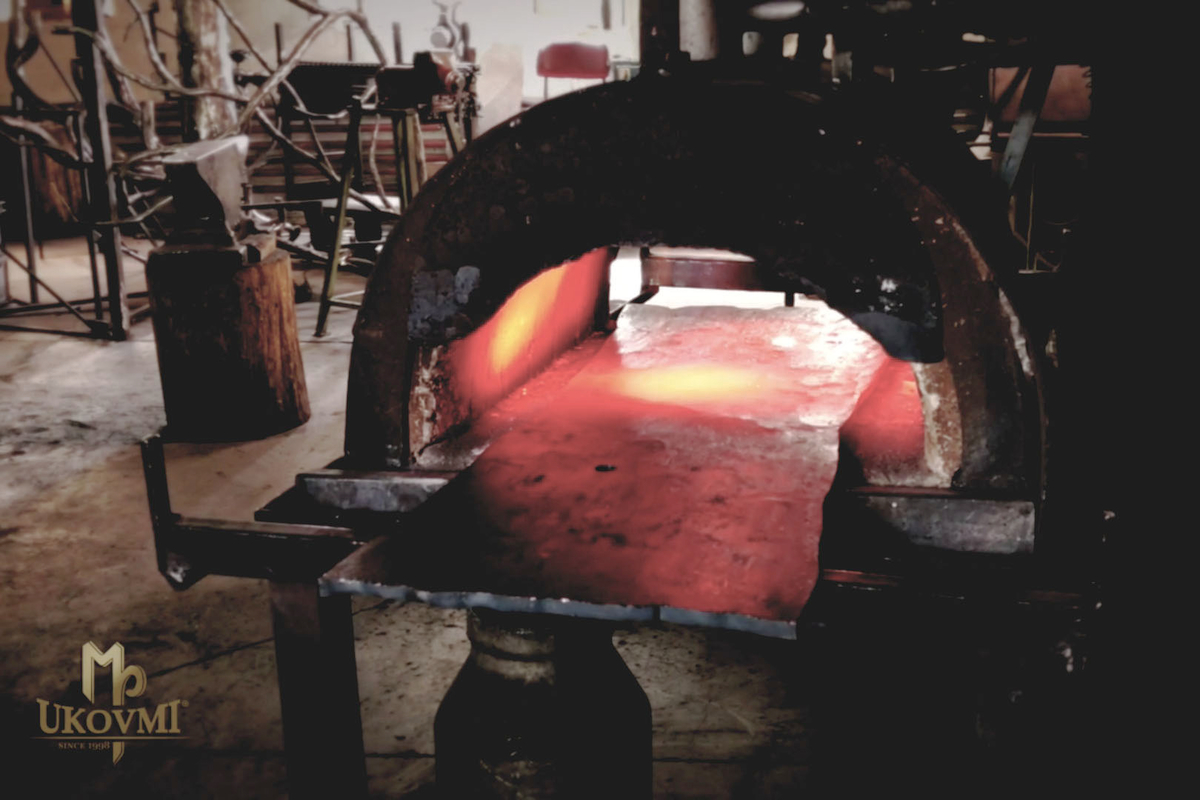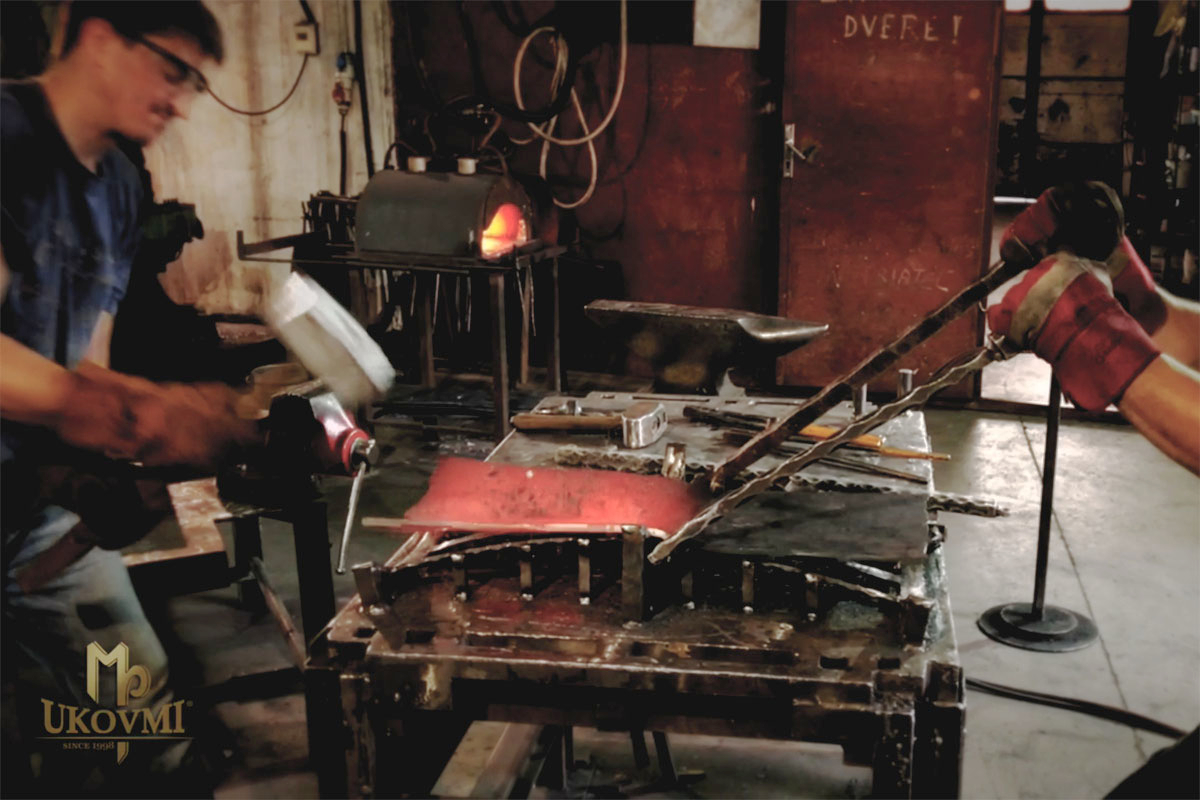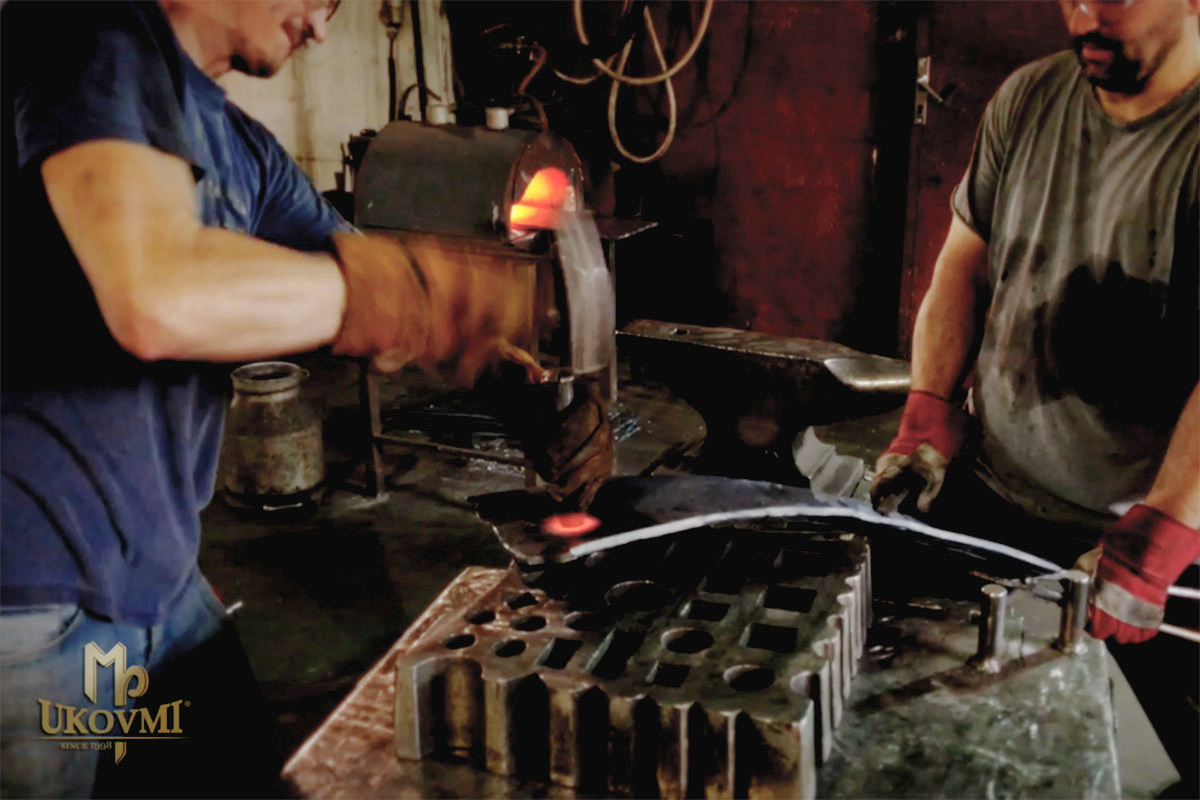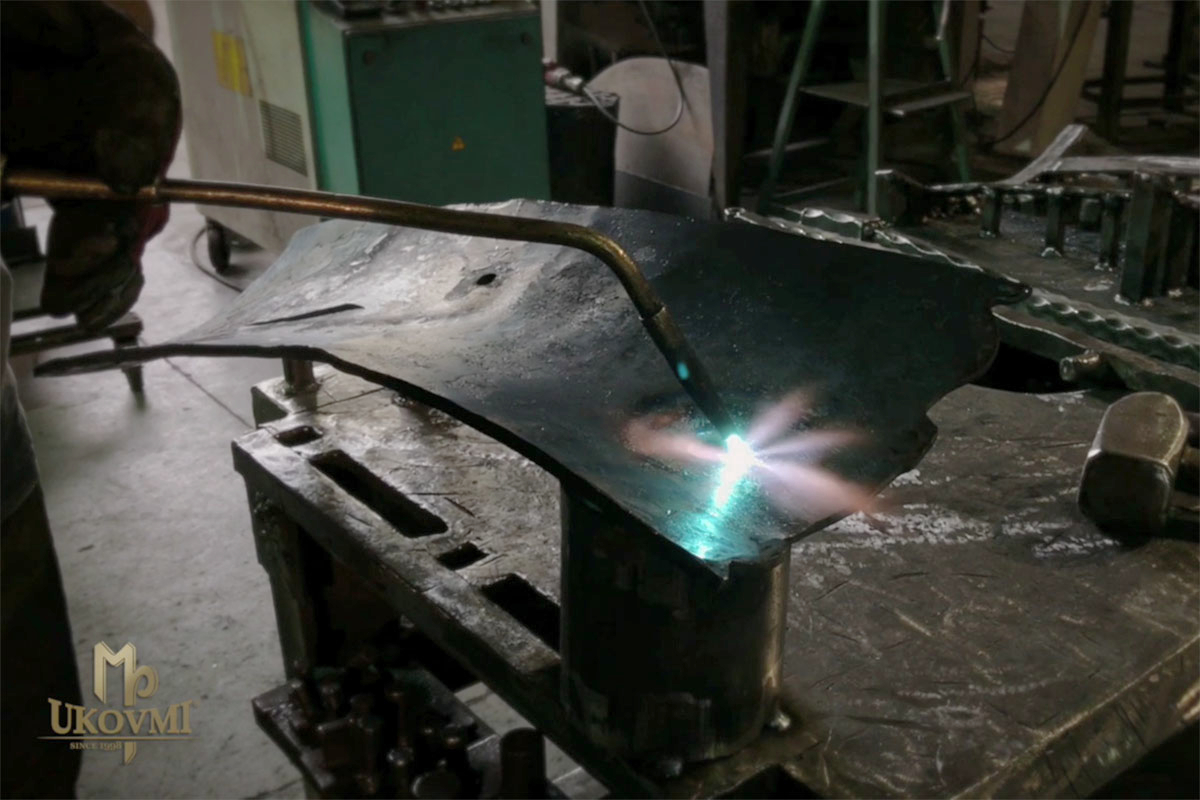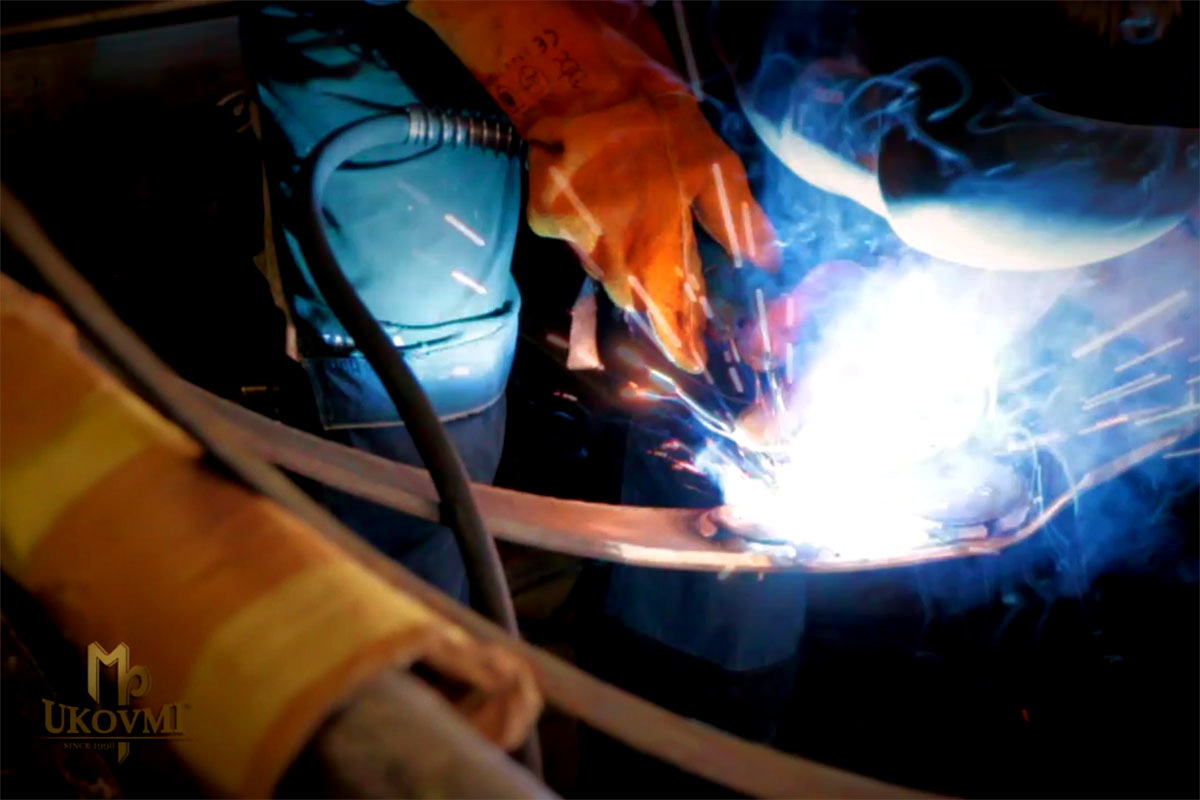 Heading abroad

,,Most of the time, we do bigger projects, in comparison to the decreasing amount of smaller orders. Sometimes we stay in one house for two or three years,, says Martin Poloha. They also have a customer where they had been working since 2012. They ended in July this year (2018).

Usually, people order just something small, such as a few lamps. However, the Poloha brothers pack also a catalogue with their other products. Many customers will get in touch again that they would like to finish the railing, make a swing or illuminate the staircase.

The catalogue is also in foreign languages. There are exclusive pieces like wrought iron spiral stairs twisted around a large stump. They look like they're wrapped around a tree. The shot on their candleholder at the hotel Tri Studničky in Demänovská Dolina appeared in the movie, so they also used it in their Facebook advertising.

,,We would like to gradually expand our work abroad. We have some orders in Germany, but it goes very slowly. Expansion does not go as fast as we imagined, but it will surely improve,, the Poloha brothers conclude with hope.

Source: www.sme.sk
www.ukovmi.com
www.kovanesvietidla.sk
www.ukovmi.eu