UKOVMI - BLACKSMITH'S ART STUDIO
Since iron gets the most beautiful shapes between the hammer and the anvil, in 1998 the company UKOVMI was founded by the artistic blacksmith Miro Poloha and his brother Martin Poloha. The company headquarters is in Kanaš, 45 km from Košice in eastern Slovakia.

The brothers thoroughly enjoyed working with their hands since childhood. Martin carved wood, and Miro was enchanted by metal, so he decided to study the arts and crafts of metalworking. With his first creations, he inspired his older brother and they combined hobbies with the work that began to feed them. They began the blacksmith career in a small workshop inherited from their father. They have gradually built up their own premises in which they work with several employees. Among the first forged works were mainly gates, fences, railings, and grilles, as these were customer requirements. Gradually, their work has changed more into utility-arts, and now has been expanded to include various hand-forged products such as forged furniture, garden swings and benches, fireplaces and fireplace sets, interior and exterior lights, forged and stainless steel candleholders, mirrors, various forged stands and hangers, mailboxes and other larger and smaller works of art that you can see in the gallery or buy directly from the online store. UKOVMI is one of the top companies in its industry in Slovakia and is also successfully operating in the international market. Today, UKOVMI has a registered trademark at the Industrial Property Office and its logo represents a product of superior craftsmanship, quality and design.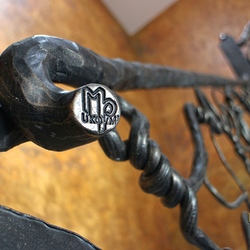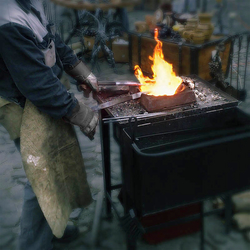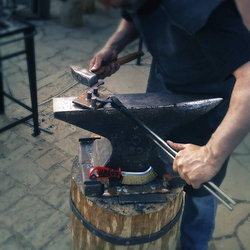 Hand-forged products originated in this company are also works of art, each of them is original and bearing traces of the hard but precious work of a man who puts passion into them and thus a piece of himself. Due to the fact that nowadays the human labor is being replaced by the machine, the return to the blacksmith's craft - the manual production - has renowned the UKOVMI studio. At high temperatures in a forge, the blacksmith turns iron into unique, unrepeatable works. However, as long as they get the final look, they will pass through the hands of several different gifted people whose work is inseparable and highlights the importance of man as an individual and of collective cooperation. Their result is both stunning in design and quality.